International Yoga Day – 2019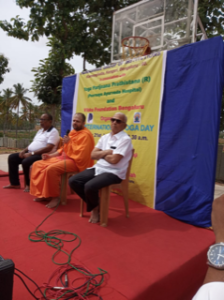 The 5th International Yoga Day celebration was organized by Vibhu Foundation in association with Padmashree Group of Institutions and Yoga Parijnana Pratishthana on 21 June 2019 at Padmashree Group of Institution campus, Kommaghatta, Bangalore. The students of Padmashree institutions participated in the celebration with great enthusiasm.
Swami Shivaprakashanandaji spoke about the importance of Yoga as a means to successful life. The spiritual wisdom is the only way to find happiness in life. The Rishis have discovered the spiritual wisdom and composed it in the form of texts like Bhagavadgita. Swamiji advised the students to study Bhagavadgita and follow its teachings to lead a happier life.
Sri T K Narayanappa, Managing Trustee of Padmashree Institutions, explained the benefits of regular practice of Yoga, Asana, Pranayama, Meditation etc. The talks were followed by Yoga practice by the students.